sharing music to listen to.
The HU's 'Wolf Totem' is the fresh yet nostalgic track I needed to kick off 2019!

Zxzzrumdum dumh dah

and just like that the first new

music to listen to

of 2019 falls outta the sky! As soon as I heard Tuvan throat singing I knew it was going to be unique, on top of that The Hu use potent rhythm and the flavors of modern production to bring Mongolian music mainstream. Like Rammstein, Shakira and

um

... Future... you don't always need to understand the lyrics to feel the music. I need to give credit to my neighbor Shane, he shared this on Facebook and I stumbled upon it. I'm now rocking The HU on repeat, and

Poppy

approves too. Here's what I know...

The HU band is a new project by a Mongolian artist and producer. My understanding is that he is regionally/nationally famous. The only name I can find so far is Bayarmagnai Dashdondog. This track, 'Wolf Totem' was released on Nov. 22, 2018. Their Facebook page was created on Nov. 20, 2018. So, a pretty new artist/venture. The official link for 'Wolf Totem' and their other single 'Yuve Yuve Yu' is [

HERE

].

I say "nostalgic" because 20 years ago exactly, in 1999, I was first introduced to throat singing by way of NPR. My friends didn't know what to think of my sub'd out 1989 Chevy Caprice blasting '

Good Horses

.' Their reactions, followed by weirded-enjoyment made it worthwhile. The album was 'Back Tuva Future: The Adventure Begins' by Ondar, a similarly experimental project featuring Tuvan throat singing. Here's an interesting narrative on the making of one of the other singles on it, 'Tuva Groove' [

LINK

].

My taste in music knows no bounds - this is definitely out of the ordinary, but if 'Wolf Totem' doesn't move a little something inside of you, well - it's time to check your pulse. I know I'll be burning a hole in these two singles, and with any luck we'll see a full album soon.

Even if destined for the hall of one-hit-wonders, I hope this track blows up in 2019.

If you want to learn more:
The HU Band on Instagram and on Facebook.

---

And those who were seen dancing were thought to be insane by those who could not hear the music.
-Friedrich Nietzsche

Archives

RSS Feed

About the Author
I'm a husband, father, diligent employee and lover of music. Plagued by creativity and filled with opinions I created this site. There is no timeline or big picture with the posts, just ramblings on music I enjoy and want to share.
-Luke

Powered by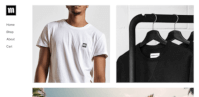 Create your own unique website with customizable templates.