sharing music to listen to.
Headphones on and half a minute into 'Love Monster' Amy Shark got me.

'I Said Hi' is from the newly released 'Love Monster', and my first introduction to the "Australian pop phenom" Amy Shark. Aptly named, 'Love Monster' is filled with the struggles, beauty and weight of romance and relationships. Occasional edgy-for-mainstream lyrics, smart production and Amy's seductive vocals keep it from being just another love lorn album.

And those who were seen dancing were thought to be insane by those who could not hear the music.
-Friedrich Nietzsche

Archives

RSS Feed

About the Author
I'm a husband, father, diligent employee and lover of music. Plagued by creativity and filled with opinions I created this site. There is no timeline or big picture with the posts, just ramblings on music I enjoy and want to share.
-Luke

Powered by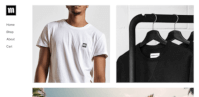 Create your own unique website with customizable templates.