sharing music to listen to.
But of all of the demon's I've know - none could compare to you...

I haven't shared any new music in over a month, but I've been listening to a lot of it... including what has become, and will most certainly remain, one of my most played albums of 2018. I listened to this album 4 times through yesterday. If you need new music to finish your summer strong, this could be it.

Ghost's 'Prequelle' is an amazingly well crafted medievally-inspired musical journey. A rock opera that takes place during a modern day bubonic plague... Yes, that's right - from rats and rotting flesh, to corrupt politicians and "your friend death." 'Prequelle' sets a dark stage of disease and despair but there's also love, hope and defiance. Themes, more so than a story, are woven through lyrics and vocals perfectly tuned to evoke personas of heroes and villains within your imagination. The dark corners of your imagination.

For a

sense of the theatrics and masterfully orchestrated instrumental work poured into this album imagine if you will

Tim Burton and Trans Siberian Orchestra sitting in a seedy hotel room. The shades are drawn tight, a band member is passed out in the corner, another is scraping mold from pizza of unknown age and origin. Tim looks up from a table strewn with illicit drugs, scratching at a scab he says... "What would Andrew Lloyd Webber do?"

If you're looking for something completely unique, but as familiar as 70's stadium rock, something majestic and soaring but angry and defiant - this album is worth listening to. If you belt out power ballads in your car, have ever been heard singing with your headphones on, or if you've shredded an air guitar like a rock god - this album is most certainly for you.

-Luke

---

And those who were seen dancing were thought to be insane by those who could not hear the music.
-Friedrich Nietzsche

Archives

RSS Feed

About the Author
I'm a husband, father, diligent employee and lover of music. Plagued by creativity and filled with opinions I created this site. There is no timeline or big picture with the posts, just ramblings on music I enjoy and want to share.
-Luke

Powered by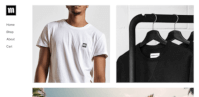 Create your own unique website with customizable templates.