sharing music to listen to.
'Spit out the Bone' is my 3 year old daughter's favorite song. That and anything from the 'Moana' soundtrack. She requests it regularly on the way home from daycare. Disc 2 of 'Hardwired...To Self-Destruct' hasn't left my CD player in months. While I usually use my phone for music, being able to press the CD button and skip to the track is a much faster (and safer) way to keep up with the request frequency. Which usually goes "Daddy, Can you play Spit Out da Bone?" or, when I'm playing other music "Daddy, after this song can you play Spit Out da Bone?" Then I see in the review mirror as she moves her head and taps her feet along to the furious beat, satisfied.

'Spit Out the Bone' easily deserves entry on the shortlist of all-time great thrash metal songs. It's a seven minute in-your-face, Metallica-at-its-purest war hammer of a song. It comes on hard and fast and never stops. Metal with melody 'Spit out the Bone' is a jewel in the exceptionally well done album 'Hardwired...To Self-Destruct'. While this is my daughter's favorite song, my top choice from the album would be 'ManUNkind'. But, this is one of those rare albums where you just don't want to cross any track off the list. I hadn't seen the video until sitting down to write this. It's some trippy sh*t, but also fun with it's intentional "B" look. And no, I won't be showing this to the kid.

​-Luke

And those who were seen dancing were thought to be insane by those who could not hear the music.
-Friedrich Nietzsche

Archives

RSS Feed

About the Author
I'm a husband, father, diligent employee and lover of music. Plagued by creativity and filled with opinions I created this site. There is no timeline or big picture with the posts, just ramblings on music I enjoy and want to share.
-Luke

Powered by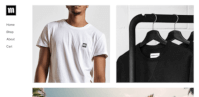 Create your own unique website with customizable templates.