sharing music to listen to.
During the summer of 2017 I played the hell out of 'Black Rose' by Volbeat. A band that has really exploded over the past few years - and not to be that guy - but I told you to check out Volbeat back in 2007. Two minutes into 'The Human Instrument' I knew I'd be keeping an eye out for every future album release. But, I digress. Fast forward a decade - I'm burning down the highway belting out the lyrics to "Black Rose" and reaching for the volume knob at "...she's on a hunt cookin' cookin' cookin' misery!..." Having had many commutes worth of practice, this had become my favorite part. A few verses from a featured guest singer. "Who is Danko Jones?" I needed to hear more. A quick search turned up several albums. I took the latest release 'Wild Cat' for a test drive. It has since maintained a place in my library. Right from the start with 'I Gotta Rock' you're off on a raw bar-rock bender. This album is feel-good in the way that hesitantly paying a $10 cover at the door and finding out the band is decent feels good. After reading a few other reviews it sounds like this is the upper crust of their typical sound. So, if you like what you hear you may want to try another album or two.

Rock and roll purists looking for new music to listen to will enjoy 'Wild Cat'. The standout track for me is 'Do This Every Night'.

-Luke

---

Bonus! Volbeat - 'Black Rose'

And those who were seen dancing were thought to be insane by those who could not hear the music.
-Friedrich Nietzsche

Archives

RSS Feed

About the Author
I'm a husband, father, diligent employee and lover of music. Plagued by creativity and filled with opinions I created this site. There is no timeline or big picture with the posts, just ramblings on music I enjoy and want to share.
-Luke

Powered by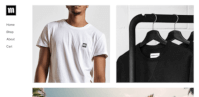 Create your own unique website with customizable templates.