sharing music to listen to.
What do you get when you mix the lyrical angst of

Rage Against the Machine

with highly collaborative production, and vocals that swing between between Chester Bennington (Linkin Park) and Dennis Lyxzén (Refused)? You get the hardcore rap-rock trio The Fever 333 and their debut album 'Made An America'. This may be a band to keep an eye on in the coming year. And, while you probably won't be listening to their songs on FM airwaves in the near future, you

can

expect to hear the title track 'Made An America' somewhere... soon.

-Luke

And those who were seen dancing were thought to be insane by those who could not hear the music.
-Friedrich Nietzsche

Archives

RSS Feed

About the Author
I'm a husband, father, diligent employee and lover of music. Plagued by creativity and filled with opinions I created this site. There is no timeline or big picture with the posts, just ramblings on music I enjoy and want to share.
-Luke

Powered by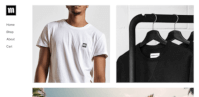 Create your own unique website with customizable templates.