sharing music to listen to.
...when Apple Music served up 'Big Iron'... I was hooked.

Whether browsing and discovering, hearing and shazaming, radio scanning or being suggested new music to listen to; it doesn't have to be current or popular it doesn't even need to be new, just good music - regardless of genre. With that in mind, Marty Robbins 'Gunfighter Ballads and Trail Songs' is awesome.

I was completely unfamiliar with Marty Robbins when Apple Music served up 'Big Iron'. I'm not sure if it was the guitar and rhythm, Marty's crooning cowboy voice or the story within the song, but I was hooked. I've since listened to the entire album more times than you heard Gangnam Style in 2012. I've shared songs with friends and family and even made someone grin ear-to-ear when they walked in and heard it playing... "Is that Marty Robbins?!" Taking them to a memory of

riding shotgun with their father, cruising

dirt roads in an old Chevy. While quite the opposite of new music I believe it's very much worth sharing, and listening to.

So, here I am recommending to you reader, an album that's nearing 60 years old as new music to listen to. Whether you're just getting ready to hit the trail or you're already on it, 'Gunfighter Ballads and Trail Songs' is pure midwestern Americana at it's best.

'Big Iron' is a great song, a hit song - #18 on the Country Music charts in 1960 to be precise, but for me 'The Master's Call' is where it's at.

-Luke

---

And those who were seen dancing were thought to be insane by those who could not hear the music.
-Friedrich Nietzsche

Archives

RSS Feed

About the Author
I'm a husband, father, diligent employee and lover of music. Plagued by creativity and filled with opinions I created this site. There is no timeline or big picture with the posts, just ramblings on music I enjoy and want to share.
-Luke

Powered by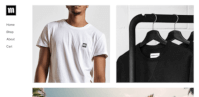 Create your own unique website with customizable templates.