sharing music to listen to.
I check my dome, I straighten my tie
Whose that looking back at me looking so fly?
I'm like "Damn, oh, that's me in the mirror!"
I blow myself a kiss, it's getting hot up in here...

Forget what your friends will think of your taste in music. This album is a blast. If I had to pick a genre I guess it'd be rock, but their sound is all over the place. I'd never heard of Wilson until now, but I do know you can most definitely get your party on to 'Tasty Nasty.' Party. On.

I'd recommend a song to try first, but I couldn't pick just one. The album opens with a thumping track in 'Dumptruck' and it certainly sets expectations from the start. But, you'd be mistaken if you think you can sum up the album, or artist for that matter, from this first song. 'Money (Money Money Money)' is a solid track with a little funkier vibe. Listening to 'House of F#ckery' makes me laugh and rock out at the same time. My pick for an end of the summer jam though has to go to 'Like a Baller'. While the more sentimental among you might vote for 'Everyone Gets a Round on Me.'

The video for 'Like a Baller' is below... I'm pretty sure they made the video by themselves, with their phones maybe... Love for the production value!

There's a little something for everyone, but those who can get down with the no f#cks given attitude of 'Tasty Nasty' will have the most fun with it.

---

And those who were seen dancing were thought to be insane by those who could not hear the music.
-Friedrich Nietzsche

Archives

RSS Feed

About the Author
I'm a husband, father, diligent employee and lover of music. Plagued by creativity and filled with opinions I created this site. There is no timeline or big picture with the posts, just ramblings on music I enjoy and want to share.
-Luke

Powered by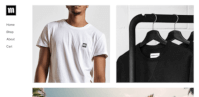 Create your own unique website with customizable templates.