sharing music to listen to.
Songs of the Maine woods from the Mallett Brothers Band.

​Fun fact, I went to school with these guys. I've actually been listening to music from members of the Mallett family since I was single digits old. I can recall my dad pulling out a David Mallett cassette from a

mega tape-tote

going back to the mid 80s. Listening to the Mallett family's music has become somewhat of a tradition for our family. I keep a copy of 'Inches & Miles, 1977-1980' downloaded on my phone. When my children get antsy during a long car ride 'Garden Song' has a near instant pacifying effect. A feeling that is sustained as the album proceeds into one of my favorite songs 'Arthur'.

The Mallett Brothers Band is fronted by David Mallett's two sons. They were a year or so behind me in high school. Now, years later I look forward to catching a live performance whenever they're in town. The Mallett Brothers pick, pluck and strum their own path through what I guess would be most closely classified as country music. All I can say about their sound is that barn-party rock had a roll in the hay with the family muse of folky Americana. Personally, I think they're just having a fucking good time. With no boundaries or expectations creativity flows free. The most recent evidence to that point is 2017's 'Falling of the Pine'. This album is heirloom rock, literally, with many of the songs coming from an old book of logging music they stumbled upon in their family library. Songs and hymns from the lumberman who forested the wild woods of Maine of the 1900's.

-Luke

---

And those who were seen dancing were thought to be insane by those who could not hear the music.
-Friedrich Nietzsche

Archives

RSS Feed

About the Author
I'm a husband, father, diligent employee and lover of music. Plagued by creativity and filled with opinions I created this site. There is no timeline or big picture with the posts, just ramblings on music I enjoy and want to share.
-Luke

Powered by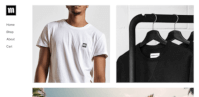 Create your own unique website with customizable templates.