sharing music to listen to.
Everyone goes crazy for 'Crazy', but 'Going On' is my personal favorite Gnarls Barkley song, from my favorite Gnarls Barkley album 'The Odd Couple' the follow up to 'St. Elsewhere', their only two studio albums.
​-Luke


And those who were seen dancing were thought to be insane by those who could not hear the music.
-Friedrich Nietzsche

Archives

RSS Feed

About the Author
I'm a husband, father, diligent employee and lover of music. Plagued by creativity and filled with opinions I created this site. There is no timeline or big picture with the posts, just ramblings on music I enjoy and want to share.
-Luke

Powered by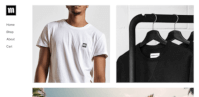 Create your own unique website with customizable templates.