sharing music to listen to.
Intrigued by the album art and a song title, completely unfamiliar with the artist Brian Fallon, I was seriously impressed by 'Sleepwalkers'.

My first reaction "I hope this isn't Jimmy Fallon's brother or something..." My second reaction was to turn it up. That was 30 seconds in to 'My Name is the Night (Color Me Black)' - the first track I played. I quickly found the full album and played it from the beginning.

After the first few beats of 'If Your Prayers Don't Get to Heaven' I knew I'd struck music-to-listen-to gold.

After some light Wikipeding I learned 'Sleepwalkers' is Brian's second solo studio album. The first was 'Painkillers' in 2016. If his voice sounds familiar that's because Brian Fallon is also the lead singer for

The Gaslight Anthem

. 'Sleepwalkers' is an upbeat blend of modern rock, bluesy Americana and soul. Two standout tracks for me are 'Etta James' (a live performance from this past month below) and

'My Name is the Night (Color Me Black)' (

audio-only below).

​-Luke

---

And those who were seen dancing were thought to be insane by those who could not hear the music.
-Friedrich Nietzsche

Archives

RSS Feed

About the Author
I'm a husband, father, diligent employee and lover of music. Plagued by creativity and filled with opinions I created this site. There is no timeline or big picture with the posts, just ramblings on music I enjoy and want to share.
-Luke

Powered by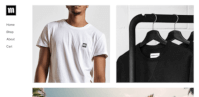 Create your own unique website with customizable templates.