sharing music to listen to.
Growing up in my family, whenever we went anywhere in the car, we were accompanied by an enormous zipper-suitcase of cassette tapes.

This satchel, and fabulous testament to 80's-life tech that would barely meet today's airline carry-on requirements, was in many ways an early catalyst for my appreciation of music. Occasionally, I'll reference my parent's contribution to some musical influence in my life. This is one of those times, and a short story about a music-loving parent's ingenuity.

About the time we were growing out of Raffi and Rick Charette my siblings and I were becoming more interested in listening to our parents music. It didn't take long until we all had our favorite songs from artists like Jim Croce, The Grassroots, Meat Loaf, The Beatles, Elton John, Bob Seger and the list goes on and on. We were listening to a lot of music, and long before any of us could read well enough to identify albums - which created a problem. Album art helped, but not enough. I recall a conversation, which absolutely resembled an

Abbott and Costello bit,

around "how many mustaches?!" And, my mother made it

clear

how it was unsafe for her to try to pick the tape we wanted while driving. In what I'm sure was an effort to pacify three children more than a passion for music discovery, my dear old mom color coded every cassette. She did this using snips of colored electrical tape in varying sequences. Unobtrusively located on the lower spine so that the color code faced outward while the cassette was in the megacase. It looked like a diagram of naval flags, but it worked.

So, when 6 year old me wanted to hear 'Tightrope' by Bob Seger & The Silver Bullet Band all I had to do was hand over the cassette with the red-green-black on the back... then wait and listen to the album - from whatever point it started out at - until that sweet 80's synth sound started.

​-Luke

And those who were seen dancing were thought to be insane by those who could not hear the music.
-Friedrich Nietzsche

Archives

RSS Feed

About the Author
I'm a husband, father, diligent employee and lover of music. Plagued by creativity and filled with opinions I created this site. There is no timeline or big picture with the posts, just ramblings on music I enjoy and want to share.
-Luke

Powered by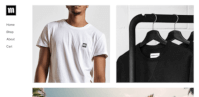 Create your own unique website with customizable templates.