sharing music to listen to.
One of my favorite videos of 2017, YouTuber "YouYouYou!!!" listens to Rage Against the Machine's self-titled debut album for the first time, his reactions say it all. Needless to say I put RATM on heavy rotation after watching this. Warning NSFW language. "Whoo hooo ooo! Let's keep it going!"

---

And those who were seen dancing were thought to be insane by those who could not hear the music.
-Friedrich Nietzsche

Archives

RSS Feed

About the Author
I'm a husband, father, diligent employee and lover of music. Plagued by creativity and filled with opinions I created this site. There is no timeline or big picture with the posts, just ramblings on music I enjoy and want to share.
-Luke

Powered by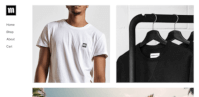 Create your own unique website with customizable templates.