sharing music to listen to.
If you're Jason Derulo, and someone walks up and say's "You've got one song to show why you're the next Michael Jackson." Well, your answer is going to be 'Cheyenne'.

​Derulo delivers an add-to-library worthy album in 'Everything is 4'. Beyond the opening

pop-single 'Want to Want Me' and

breakout hit 'Get Ugly', it contains appealing collaborations like 'Broke' featuring Stevie Wonder and Keith Urban. For me, the stand out track is 'Cheyenne'. A song that echos the sound of Michael Jackson on 'Bad'. Think 'Dirty Diana' and 'Smooth Criminal'. A similarity that's acknowledged in the music video with

purposely Jackson-esque

styling and choreography. This is a car worthy track, turn it up then next time you're on the road and you'll be singing along like a

sheriff to Taylor Swift

.

​-Luke

And those who were seen dancing were thought to be insane by those who could not hear the music.
-Friedrich Nietzsche

Archives

RSS Feed

About the Author
I'm a husband, father, diligent employee and lover of music. Plagued by creativity and filled with opinions I created this site. There is no timeline or big picture with the posts, just ramblings on music I enjoy and want to share.
-Luke

Powered by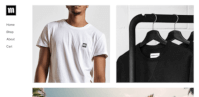 Create your own unique website with customizable templates.