sharing music to listen to.
Man, do I miss Rdio. But, that's a topic for another time... Since you're reading this, you likely get your tune-fix from a digital content provider (in addition to

through the radio or purchasing hard copies

.) When you listen to music, what's your digital platform of choice?

---

And those who were seen dancing were thought to be insane by those who could not hear the music.
-Friedrich Nietzsche

Archives

RSS Feed

About the Author
I'm a husband, father, diligent employee and lover of music. Plagued by creativity and filled with opinions I created this site. There is no timeline or big picture with the posts, just ramblings on music I enjoy and want to share.
-Luke

Powered by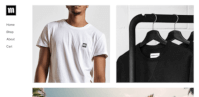 Create your own unique website with customizable templates.