sharing music to listen to.
'Here Come the Runts' is the 3rd studio album from the um...

experimental?

American rock band AWOLNATION, following 'Run' and 'Megalithic Symphony' which features the hit single 'Sail'. This latest album has that distinct AWOL sound, but with the kind of growth that comes from pppractice... the freedom to try whatever you want on the Red Bull Records label doesn't hurt either.

'Here Come the Runts'

has a

slightly

lighter, more "fun" vibe compared to 'Run' which features an overall heavier feel. For those reasons I think this album may be worth a try for anyone who played it safe on the sidelines with 'Sail'.

-Luke

And those who were seen dancing were thought to be insane by those who could not hear the music.
-Friedrich Nietzsche

Archives

RSS Feed

About the Author
I'm a husband, father, diligent employee and lover of music. Plagued by creativity and filled with opinions I created this site. There is no timeline or big picture with the posts, just ramblings on music I enjoy and want to share.
-Luke

Powered by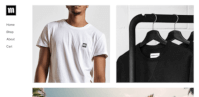 Create your own unique website with customizable templates.