sharing music to listen to.
O' the emotion in the rich, earthy and commanding vocals from a singer whose effortless delivery of power sways your very soul.

That's Shoshana Bean, and 'Remember the Day', which builds in intensity and passion becoming a statement of emotional freedom. Her newly released album 'Spectrum' covers several genres in a showcase of her range, and control. Speaking of covers, she commands them. Shoshana Bean pours out such at performance in 'Make it Rain' that you'd be forgiven in assuming it was written for her. Powerful soul-diva vocals, songs you know and fantastic production make 'Spectrum' a winner. Don't just take my word for it, here's a much more thorough review from Soul Tracks - [

Shoshana Bean - Spectrum

]

-Luke

And those who were seen dancing were thought to be insane by those who could not hear the music.
-Friedrich Nietzsche

Archives

RSS Feed

About the Author
I'm a husband, father, diligent employee and lover of music. Plagued by creativity and filled with opinions I created this site. There is no timeline or big picture with the posts, just ramblings on music I enjoy and want to share.
-Luke

Powered by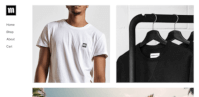 Create your own unique website with customizable templates.