sharing music to listen to.
I'm syphoning suggestions with this one. A facebook friend put out the call for new music recommendations, and after posting my own I scrolled through what others had put forth. I guess this name jumped out at me... Unless it's an artist I'm familiar with it pretty much comes down to how intriguing the album art, title or artist name is, as to whether I choose to play it. The artist recommended - Jukebox the Ghost.

After trying several of their more popular songs I got into Thump Sessions, an EP album. EP means "Extended Play." At 21 minutes long it's a little too short to be a full CD and a little too long to be a single. This album in particular is great background music. Comparing the sounds of Jukebox the Ghost to other artists would be somewhere around Weezer mixed with Queen ('In the Cut' is a perfect example of this) with Ben Folds Five flair and the occasion hint of Mumford and Sons.

​-Luke


---

And those who were seen dancing were thought to be insane by those who could not hear the music.
-Friedrich Nietzsche

Archives

RSS Feed

About the Author
I'm a husband, father, diligent employee and lover of music. Plagued by creativity and filled with opinions I created this site. There is no timeline or big picture with the posts, just ramblings on music I enjoy and want to share.
-Luke

Powered by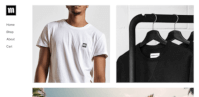 Create your own unique website with customizable templates.