sharing music to listen to.
On a whim the other night I gave Andrew W.K.'s 'You're Not Alone' a whirl, having liked 'Party Hard' years back. My impression after the first listen through was that this album certainly stands out. Upbeat and also dark, it's party-mode filled with perseverance and spirit. Best consumed in it's entirety, this un-mainstream masterpiece is worth adding to your library. There's so much going on in You're Not Alone, that comparing it to music from other artists requires naming quite a few. Perhaps a mix of Volbeat, Billy Talent and maybe a 'pint' of Type O Negative. Then it starts going to some really riotous Jim Steinman places, with maybe a touch of inspiration from Andrew Lloyd Webber. This album is an almost-rock-opera that's full of heart.

24 hours and around 6 listens-through later I'm really digging it. The video for 'Ever Again' just adds to the appeal. Like the album, forget expectations and enjoy the ride.

(I had to look this up) While not a christian rock group, Andrew W.K. is religious and a motivational speaker. That influence comes through in the lyrics and adds a recurring optimism to the album. In my opinion this is darn good listening. If you start at the beginning of the album - when you come out of 'The Devi's On Your Side' an into 'Break the Curse' - you'll thank me. (No skipping ahead.)

​-Luke

---

And those who were seen dancing were thought to be insane by those who could not hear the music.
-Friedrich Nietzsche

Archives

RSS Feed

About the Author
I'm a husband, father, diligent employee and lover of music. Plagued by creativity and filled with opinions I created this site. There is no timeline or big picture with the posts, just ramblings on music I enjoy and want to share.
-Luke

Powered by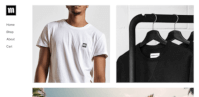 Create your own unique website with customizable templates.